The ARIS spectrometer
Compact USB spectrometer for portable and industrial integration
Key Features:
Significantly improved sensitivity
Superior stray light performance
Miniature size
More affordable than ever
The Aris spectrometer is a laboratory-grade instrument that also meets the size, price and reliability requirements for portable and industrial applications.
Its high-throughput optical design delivers 2 to 4 times better sensitivity than other spectrometers in this price range without sacrificing stray light performance.
The Aris is available in five standard wavelength ranges that can be customized to the requirements of a specific application.
Its powerful microcontroller offers on-board auto exposure, averaging, buffering and sophisticated spectrum processing.
With its proven reliability in rough conditions and compact size, the Aris bridges the gap between laboratory and field spectrometers.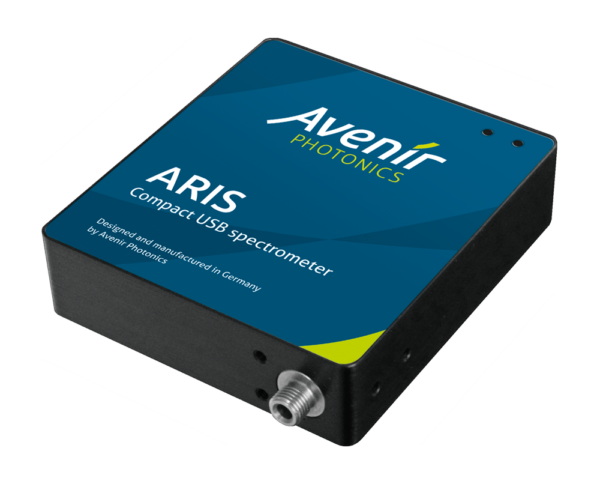 Accessories
Precise measurements require application-specific optics for light collection. We offer customized sampling probes as well as the following standard accessories:
Cosine corrector
SMA collimator
Direct-attach collimator
User-replaceable entrance slits
Fiber-optical patch cables
Light Sources
Need a laser as an excitation source? Check out our bundles of spectrometers with laser modules by RGB Lasersystems. Contact us for details.